Tesla solar battery price australia
Tesla Company originally known as Tesla Motors, Tesla, Inc. was created in 2003. Tesla's s headquarters is in the San Francisco Bay Area of the United States, having offices all around the world including Australia.
Tesla moved into business and home battery storage after cutting its teeth on electric vehicle development. With the Tesla Powerwall battery in 2015, the business made a splash in the residential energy storage market, which was followed by the Powerwall 2 in 2016.
In terms of market capitalization, Tesla has evolved into a massive corporation, with a market capitalization of USD $143.6 *billion* as of late January 2020.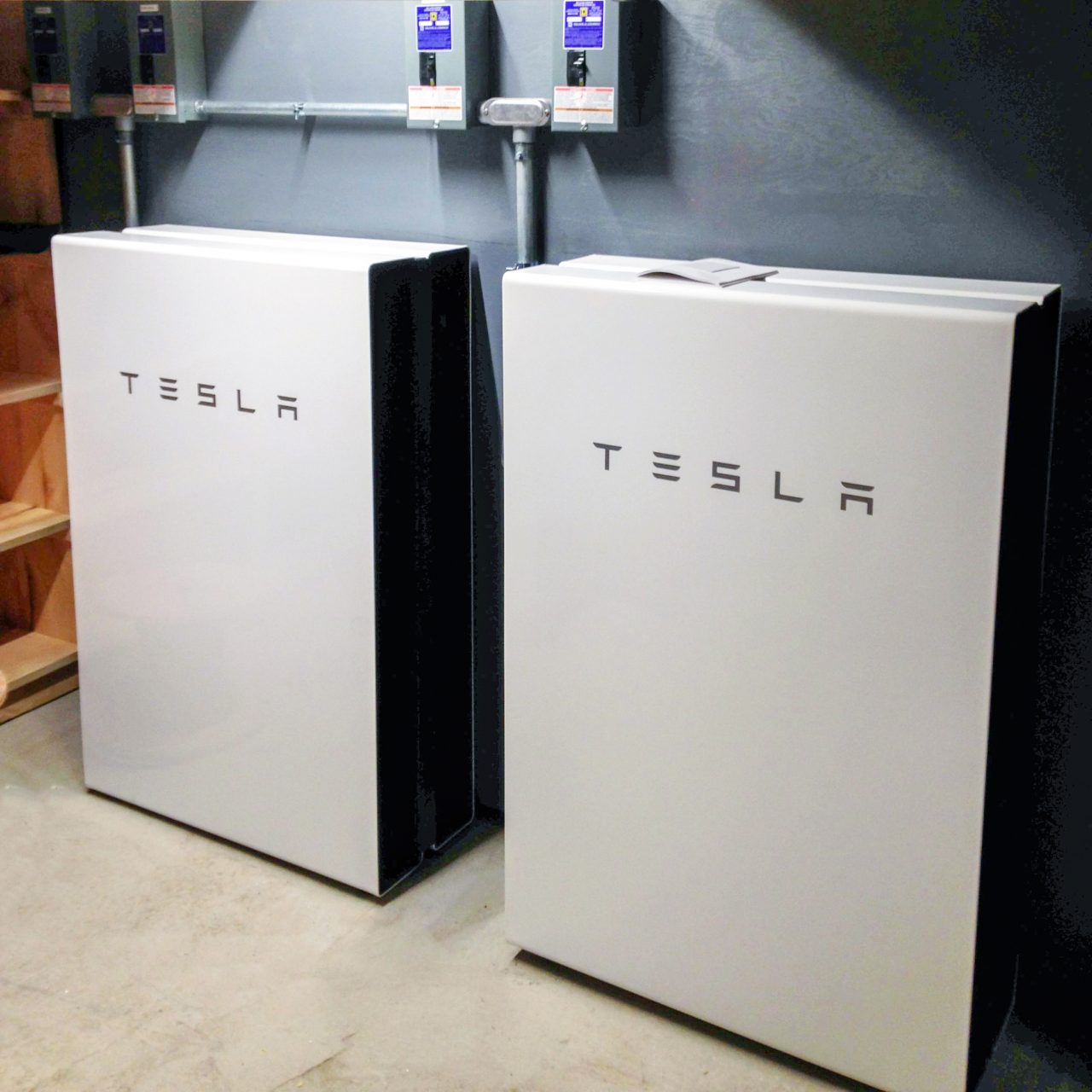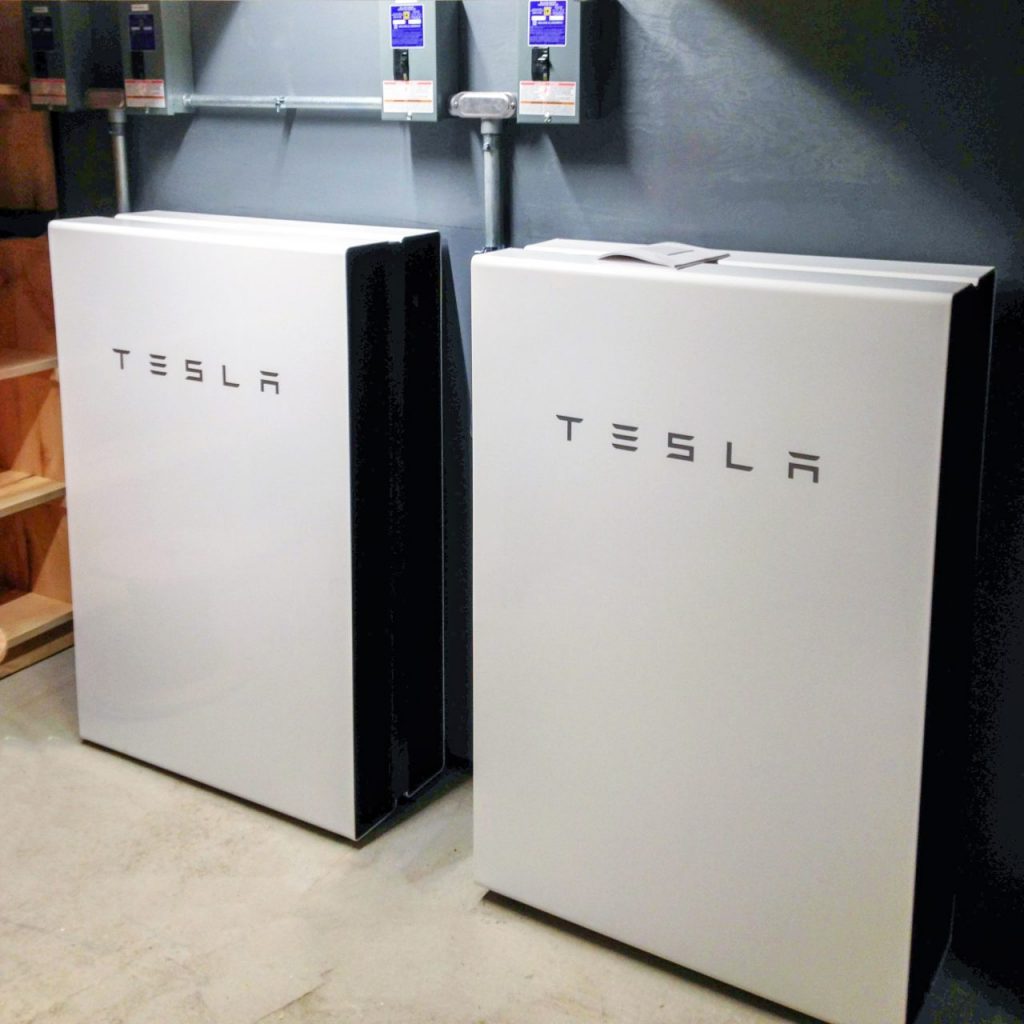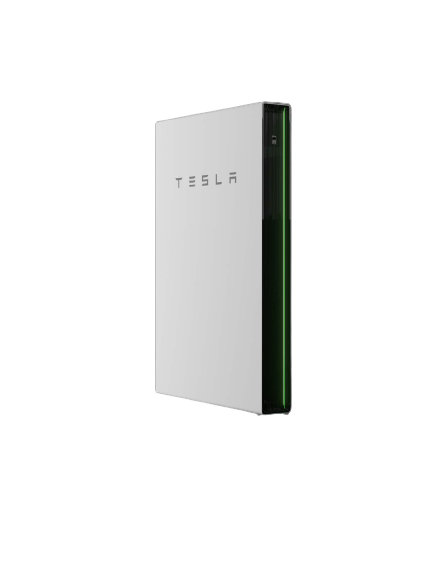 Tesla Powerwall 2 Size and Capacity:
Tesla solar batteries has the following are some basic specifications of the Powerwall 2:
Usable Capacity: 13.5 kWh
Power: 7kW peak / 5kW continuous
Dimensions: 1150 mm L x 753 mm W x 147 mm D
">
Usable Capacity: 13.5 kWh
Power: 7kW peak / 5kW continuous
Dimensions: 1150 mm L x 753 mm W x 147 mm D
How much do solar batteries cost?
Through the Price Index and the Home Battery Price Index, Solar World Power has access to the most up-to-date information on solar and battery pricing. We've been updating the figures on a monthly basis since 2012, and they're based on average pricing from over 200 Sydney installations.
Residential solar battery storage rates, including installation and GST, are now around $1,000 per kWh. This varies depending on the battery size and type, the solar installers that completed the work, and whether or not additional work is required to make the battery compatible with your system (like installing an additional inverter).
Our current price index, which excludes all state-based subsidies, is shown in the table below:
Cost of Solar Battery System in Australia(Fully Installed) – Jan 2022
| | | |
| --- | --- | --- |
| Battery Size | Battery Only Price | Battery + Inverter/Charger |
| 3kWh | $4,800 | $5,370 |
| 8kWh | $9,920 | $10,960 |
| 13.5kWh | $12000 | $14,500 |
| 18kWh | $17,640 | $19,080 |
As an example, we looked at the energy usage of Mr. X, who has signed up for an installation of a solar array combined with a Powerwall with Origin, to get a reasonable estimate of the payback time for a normal household. . Mr. X lives in a freestanding house in Sydney with his four-member family. Mr. X and his wife both work part-time from home, which means they use more energy than average families, but it also means they have greater opportunity to use solar energy instead of putting it into the grid.
Mr. X could generate roughly 15.6 kWh of electricity per day on average if he installed a 4kW solar array on his roof. Due to inefficiencies with the battery and inverter, about 7.5 kWh would be required to charge the Powerwall, which could then be used to offset 6.4 kWh of his energy use throughout the night. He would save $1.40 each day (6.4 kWh x 21.81 c/kWh) if he did this.
With a feed-in tariff of 6 cents per kWh, Mr. X would earn $0.49 per day if he didn't utilize the remaining 8.1kWh of solar energy after charging the Powerwall and instead fed it back into the grid. This, combined with the savings from using the Powerwall to store electricity for later consumption, will result in a total annual savings of $687
Mr. X's payback time is slightly over 24 years, or 2.4 times the guarantee period, thanks to Origin's total system cost of $16,500.
Mr. X and his wife, on the other hand, are able to make the most of their solar panels because they work from home part-time. Mr. X would lose $0.24 per day in feed-in tariffs but save $0.88 per day in electricity prices (4.05 kWh x 21.81 c/kWh) if he could use half of his solar electricity remaining after charging his Powerwall every day. He would save $2.52 every day, or $921 per year, if he did this. This equates to an 18-year repayment period.
Obviously, the more solar energy Mr. X can utilize to power his home, the faster he will be able to recoup his investment through decreased electric bills. Assume Mr. X was able to fully utilize his solar power by increasing his daytime energy use and charging his Powerwall; Mr. X would save $3.40 per day (14.5kWh x 21.81 c/kWh), resulting in an annual savings of $1,154 and a payback time of slightly over 14 years
What is the payback time?
If you're considering buying a Tesla Solar Battery, you should weigh the cost of the device against the savings you'll see on your electricity bills. There are other elements to consider, but you can get an estimate of your payback period by knowing how much you now pay for power and, if you already have solar panels, how much you use and how much you export to the grid.
It's also worth looking into whether there are any state or even local government rebates for solar panels or battery storage systems. Adelaide City Council, for example, presently offers rebates of up to $5,000 for the installation of a battery storage system.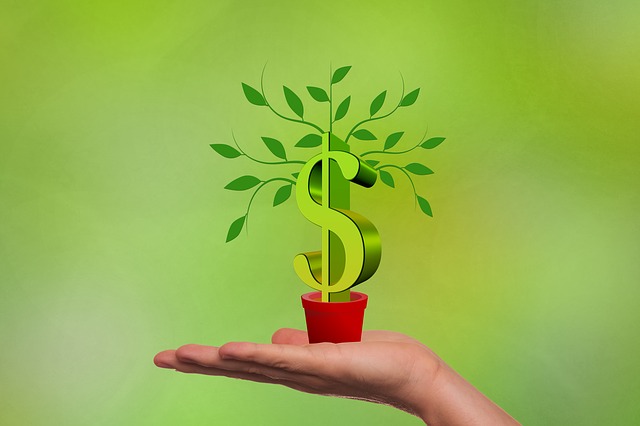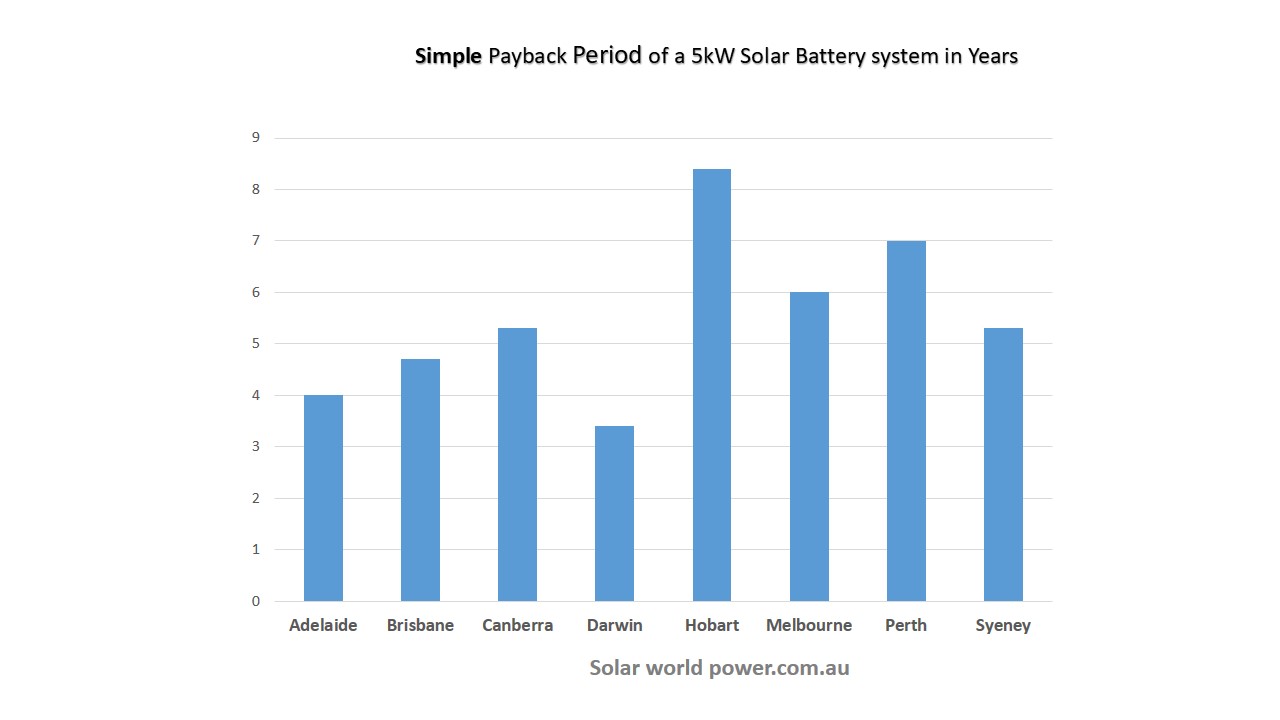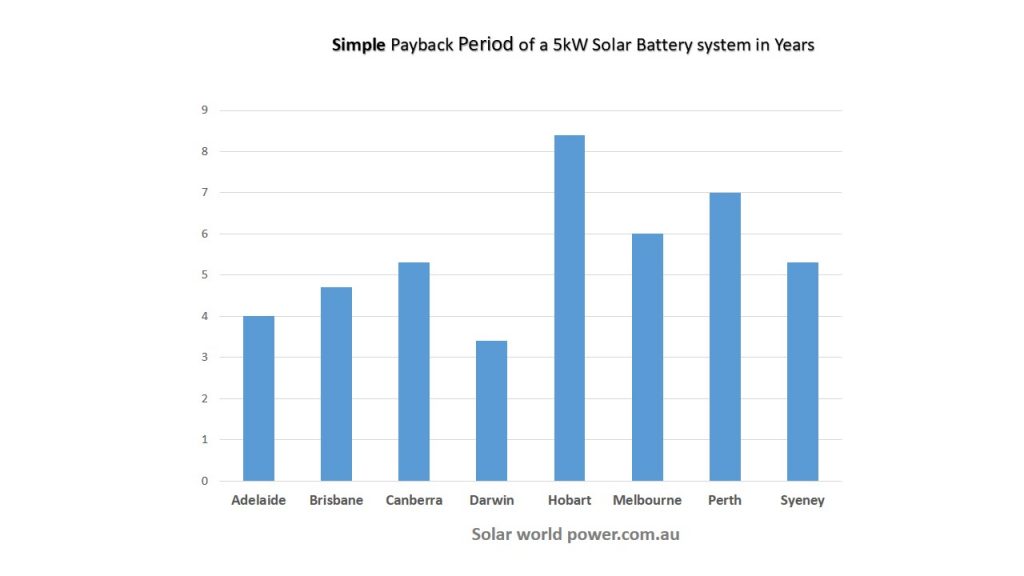 Solar Battery Storage Payback Results by the Australian city
Whether you live in Adelaide, Brisbane, Canberra, Darwin, Hobart, Melbourne, Perth, or Sydney, the appeal of a battery storage system differs. Sunlight patterns, energy costs, and solar system prices are all important factors in each city. We entered these parameters into our model and compared the results in the graph below.
6.6kW Solar: Payback Period, Price and Saving
We projected daily energy use of 30 kWhs for this energy profile, with more energy being utilized during the daytime. We recommend 6.6kW of solar panels and a 6.5 kWh battery storage option based on the projected energy demand trends.
| | | | | |
| --- | --- | --- | --- | --- |
| City | Cost Estimate | Payback Period Solar & Battery | Payback Period Battery Only | Total Year 1 Saving |
| Adelaide | $11,680* | 6.9 years | 18.7 years | $1,775 |
| Brisbane | $13,520 | 9.1 years | > 20 years | $1,465 |
| Canberra | $9,605* | 7.1 years | 18.9 years | $1,408 |
| Darwin | $17,030 | 8.2 years | > 20 years | $2,083 |
| Hobart | $15,070 | 10.1 years | > 20 years | $1,419 |
| Melbourne | $8,920* | 7.1 years | 18.9 years | $1,311 |
| Perth | $12,490 | 6.1 years | 15.8 years | $2,204 |
| Sydney | $13,250 | 10.1 years | > 20 years | $1,264 |